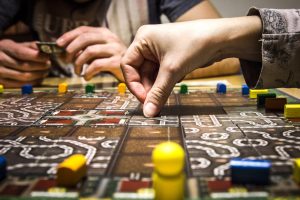 Team Toyboxes is an Australian owned and operated business meeting the needs of board game buyers from around the world. We are avid board game enthusiasts ourselves which means we take great pride in the products we offer.
Our range is unique – browse our products , including our feature products and see for yourself. You'll find a huge collection of new, used, collectible, vintage and speciality board games, such as Monopoly board games, as well as board game parts.
All our games, including the used ones, are sold in 'ready to play' condition. In fact, all Team Toyboxes' used games are cleaned, checked and re-packaged before they come to you. This is just one example of the exceptional customer service you can expect. We always put you and your needs first in everything we do. Whether we're sourcing a rare game, responding to an enquiry, or simply managing your board game purchase, you can expect the very best from us.
This includes keeping in touch with our distributors on a regular basis. This means we often know what's coming onto the market before the big news breaks. Find out what's new and subscribe to our newsletter and you'll be kept up-to-date.
Searching for a favourite childhood game? Want to get your hands on the latest and greatest games before everyone else? Trying to find a unique gift for someone special? We've got all of that and more at Team Toyboxes… and shopping with us is very easy. Plus you can rest assured that your privacy will be maintained and every transaction will be secure.
We have also added costumes and costume accessories to what Team Toyboxes has to offer.  Make your board game night complete with a costume or costume accessories.
Login , browse our products , add them to your shopping cart , view your cart content , and then checkout . We offer a seven day money back guarantee if you aren't completely satisfied with your purchase, you just pay for the return registered postage.
* Please note that most parts are free shipping (Australia Only). We also ship to overseas at the applicable postage rate.
ABN 87 787 026 915